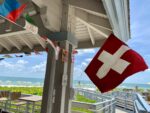 Festivities will start on Sunday July 31 at 4 pm with the Swiss National Anthem and the address by our current Bundespresident, Honorable Ignazio Cassis.
The Commons Club @ The Brooks, Bonita Beach, Florida
26388 Hickory Boulevard, Bonita Springs, FL 34134
Note: if possible, please carpool for easier parking
Food & Drinks: Apero will be served as a welcome drink, to be followed by our wonderfully grilled St.Galler Bratwurst with bread and mustard.
All cutlery, plates and napkins will be available for our guests.Please bring your own preferred beverages and any homemade special deserts are always welcome.
For Purchase: As is customary, you may order extra St. Galler Bratwursts in advance (deadline July 13th) for a price of $6.50 (tentative price – price has increased but we don't yet know the exact amount) per sausage. We will have them available for pick up at the event. Don't forget your cooler for safe transport. In case you just order the Bratwurst but do not attend the event, please place your order before July 13th by contacting lily_kraft@comcast.net or 239 590–8199. You can also place your order online and indicate in the Comment section how many Bratwurst you wish to buy and that you will not personally attend.
Cost:
Members: $20
Guests: $25
Children under 12 years: $7
Deadline: Please register and place your extra Bratwurst order no later than July 13th so we may place the order with our vendor.
Please sign up online at your earliest convenience or send your intentions to Lily Kraft or call her at (239) 590-8199