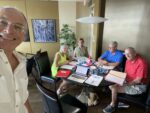 The five board members of the Swiss American Club of Southwest Florida met on July 7th for their third board meeting of 2021. The primary agenda items were the planning of the National Holiday Celebration on August 1st and the scheduling of additional events for the remainder of 2021. Ahead of those two topics, regular business was conducted and included, amongst other items, the newly redesigned website and newly created Facebook page. The feedback collected from our members so far has been overwhelmingly positive and encouraged us to continue on this path.
Our August 1st planning has been finalized and the official invitation has been sent to our members. Registrations are already being made and the board is looking forward to an active participation. As was customary in the past, we will again offer the possibility to purchase additional Bratwurst and we hope that many of the members will take advantage of that opportunity.
For the remainder of 2021, we will plan on our Chlaushock in December and some new surprising events for September, October and November. We are not quite ready to announce those activities as of yet but encourage our members to stay tuned for exciting updates.
The board concluded the meeting with energy and excitement about a growing membership list and hope for new Swiss and Friends of Switzerland to join our club and participate in our club events.