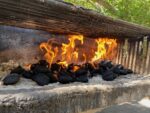 Wow, what a wonderful event today at the Delnor-Wiggins Pass State Park. Thank you all for coming and bringing your beautiful smiles and your great stories. It was wonderful to see so many of you. In fact, according to those in the know, today was a record attendance! Great showing Swiss American Club of SW Florida.
It was a hot and sunny day and unlike in 2019 (no picnic in 2020), rain never showed up and we had the great luck of using the pavillion with all the cooling shade. The grilling, as always, was a great success. Joe, our fearless president, started the charcoal right on time and he paid for it with a few extra drops of sweat. Thank you  Joe.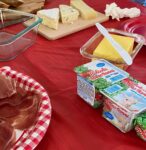 Looking around the three picnic tables, I could see so many wonderful plates. The food was good and the discussions were even nicer after such a long time of being secluded due to Covid-19. Have a look at all the great pictures, courtesy of Dori, our talented photographer.
We are now mostly past the pandemic restrictions and the board is already starting the conversations about upcoming events. For sure, mark your calendar for our national holiday celebration on August 1st.