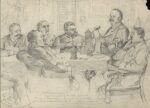 Your Swiss American Club of Southwest Florida was incorporated in November 1998. Hence, this General Assembly for 2022 will be our 24th such event.
We encourage all members to mark their calendar and plan to attend. We will be sharing the club activities of 2021 and we plan to provide an outlook for 2022.
While the official business is important and in fact, mandated, we will follow, as good traditions shall have it, with a dinner for all those in attendance.
Saturday March 12 at 16:00 (4 pm)
3651 Evans Ave, Fort Myers, FL 33901
Further details will be shared in due time and the necessary documents will be distributed to all active members in good standing no later than 30 days before the event. Am I sounding official, or what?
Please sign up online at your earliest convenience or send your intentions to Lily Kraft or call her at (239) 590-8199