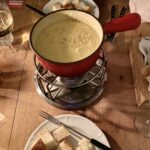 Ok, I can't resist to educate. Did you know that it was in the 18th century that the Fondue was first documents. You can read a lot more right here. Actually, my favorite Fondue story comes from Asterix & Obelix as they visited Switzerland. Do you know the story?
We will create some fun memories as we stirr the bread in the melted cheese and probably drink some delicious Swiss wine. How about it? Here are the preliminary details:
Saturday February 12 startig at 17:00 (5 pm)
The Clubhouse at Silverlakes, 13035 Lakehurst Court, Fort Myers, FL 33913
(When you get to the gate, enter code 525890 to gain access. The open gate key will change from grey to green. Press the green button and the gate will open.
Turn immediately left after the gate onto Lakehurst Circle, continue for about 100 yards then turn right onto Lakehurst and the clubhouse will be on your right. Should the parking lot be full, you can park along the road but please do not block any of the driveways.)
More details will follow in due time and if you didn't know the story of Asterix & Obelix, you have enough time to read about it.
Please sign up online at your earliest convenience or send your intentions to Lily Kraft or call her at (239) 590-8199
(venue does not allow pets or animals)