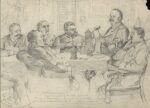 Saturday March 18 at 5pm
Fort Myers Country Club
3591 Mcgregor Boulevard, Fort Myers, FL 33901
Our general assembly is probably our most important meeting of the year and we invite all of you to join. There will be official business to be had, followed by the casual part of the meeting.
Welcome cocktail from 5:00 to 5:45pm
Official meeting from 5:45 to 6:30
Dinner starting at 6:30
The Agenda can be consulted by clicking
here
.
The cost will be $55 for members and $75 for guests. and i
ncludes the Appetizer, Buffet Dinner, Ice Tea, Water and Coffee plus 1 Glass of Wine for the Apéro. Any additional alcoholic beverages are at the expense of each participant and can be purchased at the cash bar. The menue can be found
here
.
Don't miss this event to voice your opinions, cast your vote for the board members and comment on past activities.
Registration is mandatory for this event. Deadline for registration is March 11.
Please sign up online at your earliest convenience or send your intentions to Lily Kraft or call her at (707) 880-4707.