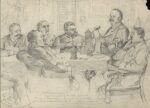 Note: Location, Date, Time and Cost are tentative. Updates will follow in due time!
Our 25th Annual Meeting is upon us. Yes, 25 years of our club. There is a lot to celebrate in 2023. You will hear a lot more details about that in the coming months.
Our general assembly is probably our most important meeting of the year and we invite all of you to join. There will be official business to be had, followed by the casual part of the meeting.
Don't miss this event to voice your opinions, cast your vote for the board members and comment on past activities.
Venue will be selected in the coming weeks. Update to follow.
Registration is mandatory for this event. Deadline for registration is March 1. Individuals not registered will be turned away at the gate.
Please sign up online at your earliest convenience or send your intentions to Lily Kraft or call her at (707) 880-4707.