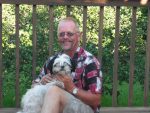 Dear fellow members
It is with great sadness to inform you of the passing of our active member Jean Kipfer. He died in Fort Myers on September 17 2023 at the age of 69.
On behalf of the entire membership, I asked Jean-Daniel Kipfer, one of his sons, to accept our Club's sincere condolences. There will be a memorial service in Fort Myers on November 15. The son informs us that this service will be for the family only.
Jean became a member of our Club in 2000 and was elected to the Board in 2006 serving first as Secretary and later as Webmaster. He resigned from the Board in 2011. He was a very active member and attended many of our events.
We will miss him. RIP