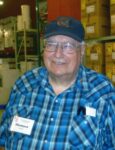 It is with great sadness to inform you that our longstanding and former Board member, Hermann Baud, passed away in the night from Thursday to Friday at the Hope Hospice in Lehigh Acres, after an illness.
On behalf of the entire Club I asked the family to accept our heartfelt condolences.
His daughter Suzanne informed that the family plans to hold a Memorial Service in Lehigh Acres on Thursday, December 16, in the afternoon.
Date: Thursday, December 16, 2021
Time: 2:00pm
followed by a small reception
Hermann joined the Club early on in 2000. He was elected to the Board in 2009 and served as Treasurer until 2015. He was a very active member and attended almost every event. His personality and his great sense of humor will be dearly missed by all of us.
Rest in peace, our friend.