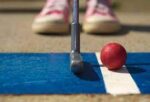 This year, we are converting our golf tournament to a miniture version and make it accessible to all ages and skill levels. Who doesn't remember the fun times out on the mini golf course on a nice and sunny day. This day will guarantee lots of laughs and possibly some challanges. Maybe you might even hit a hole in one.!
The event (mini golf and lunch) will take place on Wednesday May 18 at 10am at PopStroke. The address is 5531 Six Mile Commercial Court, Fort Myers, FL 33912.
Cost for the mini golf is $15 and will be individually paid by the participants.
Following the mini golf, we will join for a luncheon at the same location. Cost will be at participant's charge.
Please sign up and reserve your spot no later than May 11!
Please sign up online at your earliest convenience or send your intentions to Lily Kraft or call her at (239) 590-8199