Our Southwest Florida Stammtisch has officially been launched in September 2021. Our inaugural event was a great success and we had fun conversations.
The Stammtisch will be held on the first Wednesday of each month at Noon.
Please note that we have listened to your feedback and have changed the location. For Decemeber, we will move closer to the southern end of our region and hold the event at The Other Side Bistro, 24630 US-41, Bonita Springs, FL 34134. Here is the link to their website.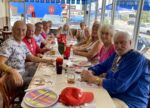 Please sign up online at your earliest convenience or send your intentions to Lily Kraft or call her at (239) 590-8199