Our Southwest Florida Stammtisch has officially been launched in September 2021. Our inaugural event was a great success and we had fun conversations.
The Stammtisch will be held on the first Wednesday of each month at Noon at HJ German Corner in Fort Myers at 3674 Cleveland Avenue, Fort Myers, Florida 33901.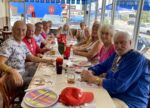 For the remainder of 2021, the Stammtisch will be held on October 6, November 3 and December 1. Mark your calendar and plan to be present.
Please register so we may have an idea how many chairs will need to be reserve.