November 11 at 4pm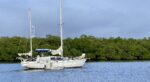 Meet us at the dock at 4pm for a timely departure at 4:30pm. The cruise will take 90 minutes and then we will have a dinner at the Parrot Key Caribbean Grill.
Meeting point:
2500 Main Street
Fort Myers Beach, FL 33931
The boat limit is 45 passangers (first come, first serve). The boat offers a cash bar. Bring your wallet. Also don't forget to bring a light cover as it might feel cool or it could even rain a bit. Registration deadline is November 5th.
The cost for the curise is $35 payable in cash, check or Zelle.
Dinner will be at the Parrot Key Caribbean Grill and the folllowing menue options are available:
Small Parrot Key mixed greens house salad. $6.00

Soup:  Yankee clam chowder or Bahamian Conch chowder. Cup: $7.00 Bowl $7.00

Coconut Shrimp Basket severed with slaw and fries. $20.00

Parrot Key Burger Served with fries. $14.00 Add cheese $1.5

Jamaican Jerk Ribs Served with slaw & fries. $17.00

Maho Shrimp Tacos are served with slaw & fries. $16.00

Caribbean Jerk Chicken served with rice and Beans $22.00

Key West Mahi Topped with crab meat avocado and diced Tomatoes finished with Myer Lemon sauce served bed of Couscous $25.00

Dessert options:

Key Lime Pie $6.00

Parrot Keys Pelican Poop Sundae $8.00
Please sign up online at your earliest convenience or send your intentions to Lily Kraft or call her at (707) 880-4707.
This is a pet free event!