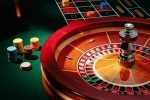 Wednesday, October 11 at 12:00 Noon will be game time.
This special and new event for October is all about having some fun and games with your friends. Whether you are a gambler or not, you are sure to find something of interest at the Seminole Casino in Immokalee.
506 South 1st Street
Immokalee, FL 34142
We meet at noon for a lunch,  and after everyone has filled their tummies with delicious food at the EE-To-Leet-Ke Grill (special recognition for the person that identified the meaning of the restaurant name), you are free to become the best version of James Bond. Is roulette your game, or is it black jack, poker or simply the slot machines? No matter what you choose, we hope you have that extra grain of luck and bring home the big price!
There is no fee for this event. Cost of the lunch and all gambling expenses are at the discretion of the participants.
Please sign up online at your earliest convenience or send your intentions to Lily Kraft or call her at (707) 880-4707.
This is a pet free event!