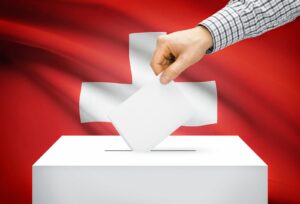 Dear fellow Swiss citizen living abroad,
On June 13, Switzerland will be counting the votes cast at the ballot box. As a Swiss abroad, your right to vote is enshrined in the Constitution. You can exercise this right as soon as you have registered to vote with your Swiss representative abroad.
Were you able to exercise your right for the vote on June 13th?
Did you have access to your material before May 22, as stipulated by law, to allow you to form your opinion?
Did you have the opportunity to return your ballot on time?
How much did it cost you to mail it?
Do you think your vote will be counted?
By completing our survey (5-10minutes) you will give us the opportunity to inform the authorities and the media in Switzerland on your voting experience, because Switzerland is on the move! 
The Federal Council initiated a new consultation on the issue of e-voting [1], and we are delighted about it. In addition, the Federal Chancellery began a pilot project to send voting material by diplomatic mail [2]. However, this project includes only 3 countries and 3 cantons. Not included is the country in which most of the Swiss abroad live, outside of Europe: the USA [3].
In order to address the delay in receiving and sending election and voting material, we believe that Switzerland needs to better understand the (often bad) experiences of the Swiss abroad, as well as their ideas on how to improve the exercise of their voting rights. If you would like to share publicly a statement about your voting experience, please comment our posts: 

https://www.facebook.com/antenneusa
Please take this opportunity to make your voice heard and let's work together toward a better framework for our Swiss democratic rights!

PS International Antenne USA
Kai Krienke, Adrian Brügger, Moritz Bondeli, Denise Dafflon